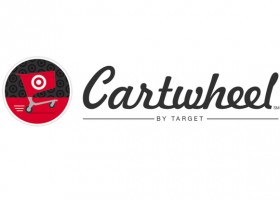 Target has introduced a new Target Cartwheel Savings program. One of the great things about this program is that you can combine/stack 1 manufacturer's coupon, 1 Target coupon and 1 Target Cartwheel offer all together.
1. To get started, you can access Cartwheel at cartwheel.target.com on your computer, tablet, or mobile device. I would recommend downloading the Cartwheel App, it's very easy to use and its FREE! You can go HERE to download for Android devices and go HERE for the iPhone, iPad and other Apple devices.
2.  Next, you will need to log in to your Facebook account, then click on Collections (the Star icon) to start browsing thru the offers. You can also use the browse button and sort by category. To select an offer, just tap on the card and it flips over showing a red "add button". As you select offers, you will fill spots in your Cartwheel. You are automatically given 10 spots to start with and then after that, you can earn more by unlocking Cartwheel badges. These will begin to unlock as you select and redeem offers.
3.  When you're ready to purchase your items and your offers are in your cartwheel, you can either print your Cartwheel barcode from your desktop at home and bring it with you to the store, or you can use the Cartwheel App on your mobile device. To print your barcode, just go to www.cartwheel.target.com and login, then click on your shopping cart and your barcode will come up. If you're using the Cartwheel app, then just open it to your barcode for the cashier to scan and the savings will be applied directly on all of the Cartwheel offers on your list.
Here are a few more details to keep in mind when using Cartwheel offers…
The Cartwheel discount is taken AFTER Target Coupons and BEFORE manufacturer coupons.
An IDENTICAL Offer can be applied a maximum of FOUR times in a single Transaction.
You can redeem all the Cartwheel offers on your Cartwheel list at the time of your transaction, whether its 10 or more (depending if you have unlocked additional spots).
You can save on your entire Cartwheel list up to 6 times per day.
You can read more details about this new program here or here.